Japanese Pasta Recipe with KARAAGEKO SHIO
Soy Meat Pasta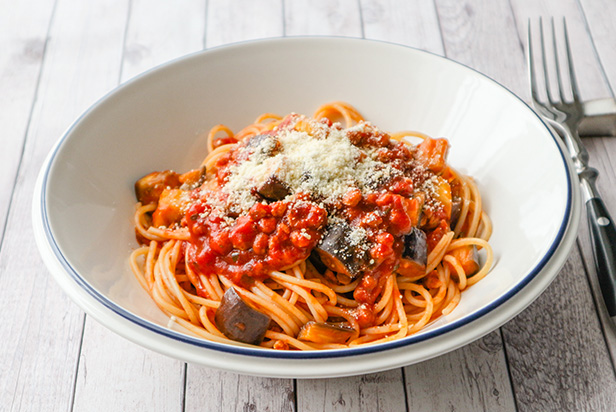 Ingredients (2 Servings)
KARAAGEKO SHIO

                                                       20g

Eggplant

                                                       1 pc

Pasta

                                                       160g

 

 

(a)

 

Tomato Juice

300ml

Water

100ml

Soup Stock (vegetable/chicken/beef)

10g

 

 

Olive Oil

1 tbsp.

Cheese (grated)

Properly

Black Pepper

Properly
Recipe
 

[Preparation]
Cut eggplant into bite sizes.
Mix (a).
1.

Heat olive oil in a pan and cook eggplant, then add (a) and soy meat.
2.

After boiled, make the heat low and boil for approx. 5 minutes while mixing.
3.

Boil pasta.
4.

Put boiled pasta in [2] and serve with grated cheese and black pepper.
Product can be used in this Recipe:
NISSIN SEIFUN KARAAGEKO SHIO AJI KOKU-UMA 100G
Buy from here: 
https://jaffood.com.my/products/nissin-seifun-karaageko-shio-aji-koku-uma-100g
Original recipe was with Soya meat from link bellow:
https://www.marukome.co.jp/global/en/recipe/soymeat_002/